Hey all! Just wanted to let you know about a productivity hack that I have found this week that is really amazing.
I know Alfred had a clipboard snippet manager but I have not been able to really get the hang of it. So I've tried a new one called Flycut Clipboard Manager. It is available through the App store.
It's simple, and very useful – after you set up a few preferences, it lives up top in your computer menu bar: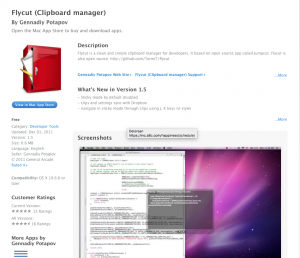 And while that is useful, because you can view everything you've added to the clipboard with cmd+C, the most useful part is shift+cmd+v. When you shift+cmd+v a small, transparent window shows up, with the most recent thing you have copied. You can hold it there, then use your arrows to cycle through other things you have copied as well… then release when you get to the chosen item. When you release, it pastes in place.
I give this a two-thumbs up as something worth trying!