It took just one quick look at our view this morning to know it: We have made the right choice in signing on as campground hosts at Sugar Lake Mile 2 Forest Services Recreation Site.
We arrived here on Thursday, after a few initial challenges. We left Oliver Wednesday morning, planning a leisurely drive through the valley up to the site, which is just outside Cherryville, B.C. We were bringing the truck and trailer, but also our SUV, as we wanted a way to commute back to Oliver on our days off (for now, every other Saturday/Sunday).
As we crossed the bridge into Kelowna, the truck started to make a horrible, grinding noise. Yup, it seems that the transmission has given up on us. We managed to pull over to a safe stopping place, and did a little problem-solving…
Thankfully, my mom and step-dad (Joe) live in Kelowna, and are very well-equipped. We called BCAA and had the truck towed to their driveway (where it still sits, if anyone is looking to buy a broke-down Chevy). Joe fetched the trailer, and we spent our first night in their driveway in Kelowna.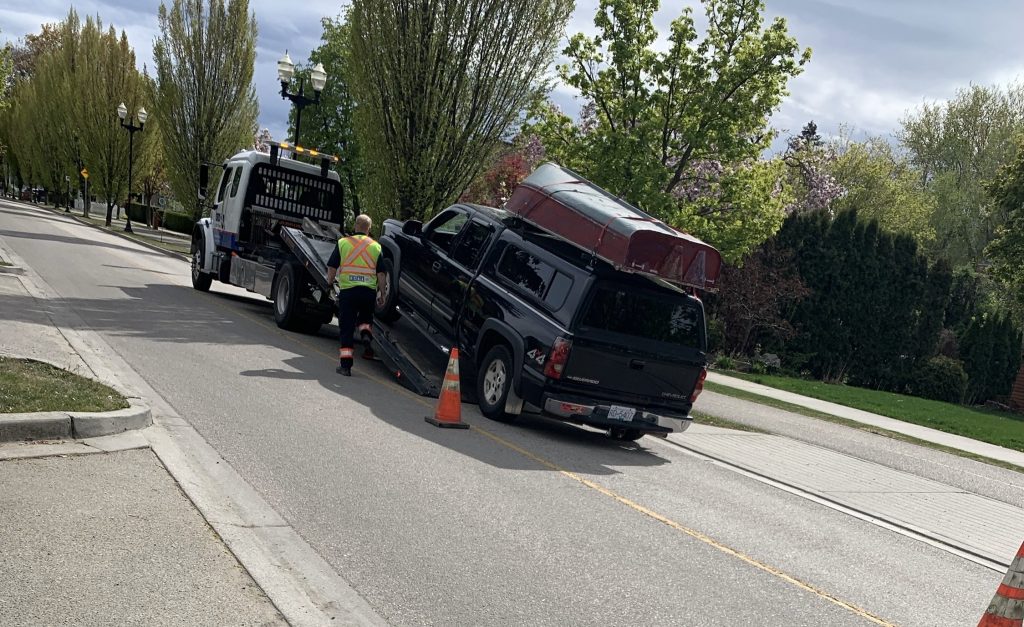 Good thing we were still a day ahead of schedule, and managed to keep our mindset in check – no small feat, truth be told. However, a couple of weeks ago I did some journalling, and what I wrote helped us navigate the challenging day:
On Thursday, my mom and Joe hauled our trailer up to the site. We spent the day getting all set up and getting the dogs settled (more on that in another post!).
Friday morning was our first day's work as campground hosts. Or rather, Jeff's first day of work. While I will help him during my sabbatical, this is really going to be his primary work. (My primary work? Hanging out with the dogs, kayaking, and paddle-boarding.)
Friday and Saturday passed by in a blur. We are learning the ins and outs of the site rules, cleaning routine, and best times to sit in the sun.
We will be here until the end of September, with some days off (check out our personal calendar here).
Stay tuned for more of our adventures (you can subscribe here for email notice of new blog posts) including our dutch oven cooking adventures (hello, fresh bread), my foray into stand-up-paddling (the icy water is good motivation to balance carefully), and my journey to secure power and internet for my remote work with Automattic (which I'll be returning to after my sabbatical, which ends early July).